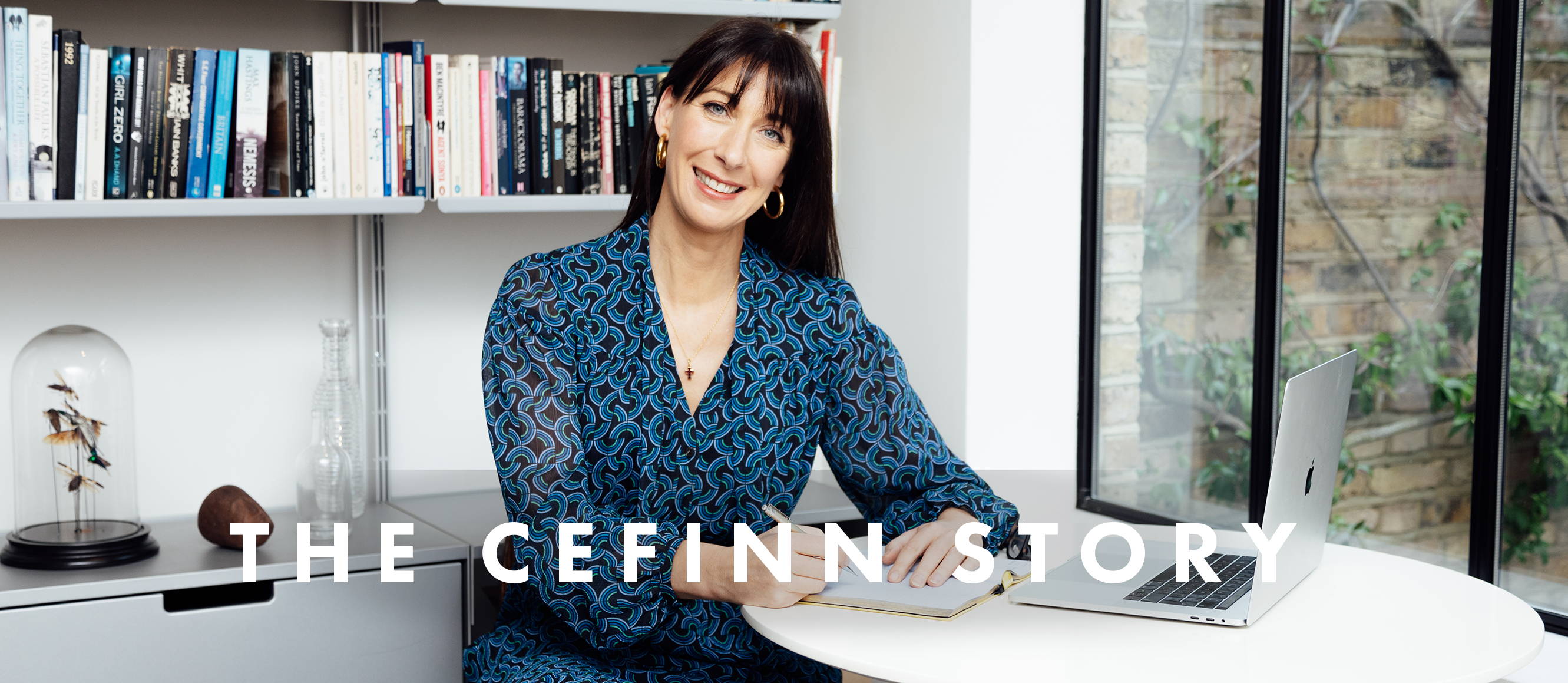 Founded by Samantha Cameron in 2017, Cefinn is a London-based label creating chic fashion for multitasking women. Every piece is designed to be smart, modern and feminine. Easy to wear and elegantly understated, it's fashion you don't have to overthink – step into it in the morning and you're good to go 24/7, from a day in the office to a dinner date with friends.
Previously Samantha was Creative Director of British accessories brand Smythson of Bond Street, winning a British Glamour Magazine Award for Best Accessory Designer in 2009. She has served as an ambassador for the British Fashion Council, playing a prominent role in London Fashion Week and the judging panel for the BFC/Vogue Designer Fashion Fund. Samantha has been named in Tatler's Top 10 Best Dressed List as well as Vanity Fair's International Best Dressed List.
Elegant | Effortless | Everyday
Samantha designs every collection from our west London studio atelier. Elegantly understated, chic and flattering, each piece is beautifully cut in high quality fabrics with trend-led silhouettes and thoughtful detailing. We are uncompromising about quality, extensively fitting every piece in the collection to ensure perfect fit, functionality, and finish.
'Fabrics are my obsession,' says Samantha. 'We travel extensively to fabric fairs and mills, testing every sample to see how it creases, does it wash well, will it bobble after repeat wears, does it look beautiful and feel luxurious.' Many pieces in the collection are machine-washable and crease-resistant, so they can be thrown in the washing machine and hung up to dry, making them as easy to look after as they are to wear. No dry-cleaning, no ironing, no stress.
The ultimate day-to-evening wardrobe, Cefinn makes it easy to create a modern wardrobe of versatile investment pieces to keep coming back to. Office-appropriate with a fashion edge, our pieces seamlessly take you from work to a night out with friends. It's fashion you don't have to overthink – step into it in the morning and you're good to go no matter where the day takes you.
"Minimal but not severe, smart but in no way corporate...it is quite simply, what you want."
British Vogue
"The fit is impeccable, the designs are exciting and the best thing of all is that many styles machine wash and hang dry, with no ironing required.
The Telegraph
"There was a gap for smart daywear that was also modern and feminine. Cue Cefinn..."
The Times
Subscribe to our Newsletter